Landscape Concrete Curbing South Carolina
Mighty Curbing
About Mighty Curbing
Family-Owned and Operated Business
Mighty Curbing is a family-owned and operated business, under the care of both Valerie and Jonathan Abercrombie. We take pride in our craftsmanship and value our honesty and integrity in all that we do. As parents of three beautiful little girls, we understand the importance of time management with a hectic schedule.

We are both long-time residents of the Columbia, SC area and we take pride in our ability to bring even more beautification to our already endearing community. As owners of Mighty Gutters LLC, we have been given the privilege to meet our neighbors and provide excellent service to our township.

Our ever-growing interest in adding to our artistic outlets as well as providing top-quality service to our neighbors helped to blossom our interests in the Decorative Concrete Curbing industry and all the benefits it can bring to both the health of the many landscapes across our town and the perceived value of each individual property.

As premier Curbing Installation experts, we promise to always bring our enthusiasm for custom landscape curbing to you offering you top-quality curbing with many colors and styles to choose from. We will transform your existing landscape with our custom designs and proficient installation practices.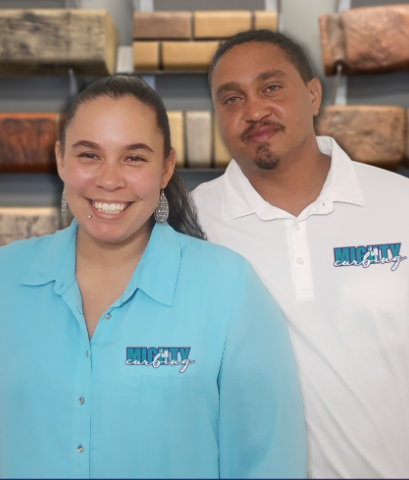 Valerie & Jonathan Abercrombie
Phone: (803) 629-5279
E-Mail: valerie@MightyCurbing.com
E-Mail: Jonathan@MightyCurbing.com